Be A Friend – Violence Prevention Presentation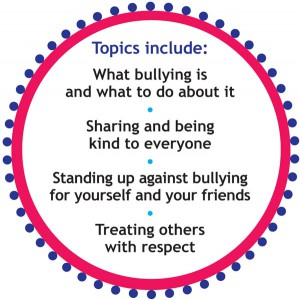 Yvette Locke, "Canada's #1 Children's Ventriloquist" wants to help your school have a great year by teaching your kids how to be friends and wipe-out bullying!
This year's show is about standing up for yourself and each other. The children learn about what a bully is and a 3 step plan to deal with them. We talk about being kind and treating each other with respect.
Your kids will laugh and learn from Yvette's adorable friends. Most importantly, they will remember her messages.
These 30min shows will give kids JK- Grade 3 the tools they need to build a caring community in their school.
What teachers think about Yvette's Program:
"Terrific presentation! Very relevant material. Kids interested in puppets and message. I enjoyed & was pleased to see the inclusion and discussion regarding various faiths."
Donna Coulter, Grade 3 Teacher, Sir Winston Churchill Public School
"This was a marvelous presentation. Mrs. Locke was exceptional. The children loved the show. The puppets were good role models. The children learned how to present themselves appropriately. This is an essential presentation in today's world. Thank you Yvette."
Pat Laidlaw, Teacher, River Heights Public School